Last month, Captain Marvel became the latest Marvel Cinematic Universe (MCU) craze to hit theatres. The movie has generated a lot of buzz with the release of Avengers: Endgame just around the corner. Not to mention becoming the MCU's first female-led installment, following in the footsteps of DC's Wonder Woman in 2017.
The film has been a success, earning over 350 million dollars at the domestic box office in the first 3 weeks, and ranking as the number one movie of 2019 so far. However, the release still posed some level of uncertainty for Marvel Studios and its shareholder Disney. While Wonder Woman went on to unexpected successes, there have been relatively few big-budget female-led superhero films, since superhero fandoms generally skew towards males. Multiple reports also suggested that unhappy MCU fans had been bombarding the movie with negative Rotten Tomatoes' reviews to try to bring its approval score down.
Campaign insights
So what was TV advertising's role in getting fans and cinemagoers into the theatre for Captain Marvel?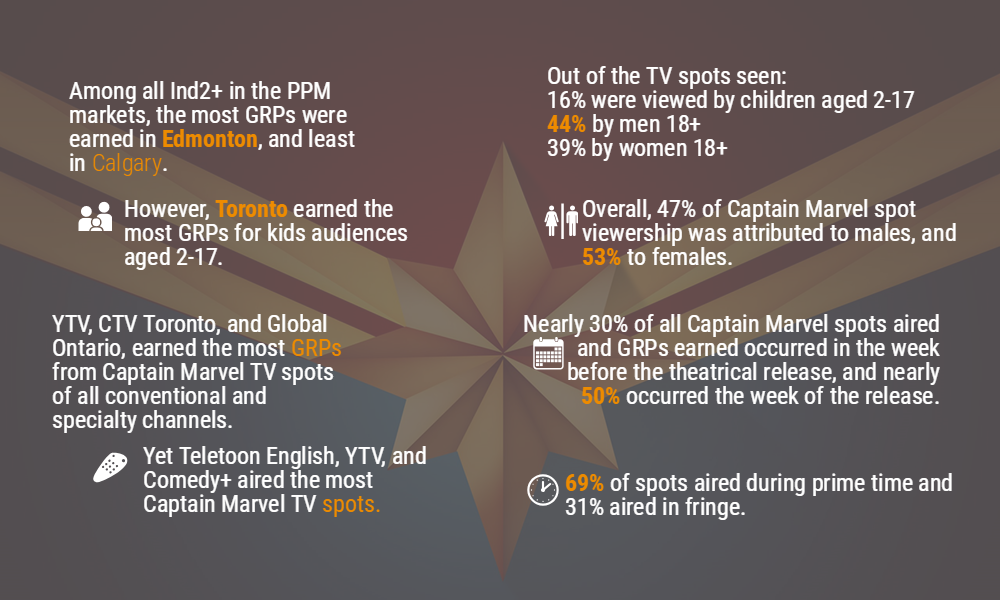 By comparison, commercial GRPs earned for the popular Valentine's Day romantic comedy Isn't It Romantic were 63% skewed towards women.
There appeared to be several strategies at play for the TV ad campaign.
With a relatively slim difference in the overall gender split for ads viewed, they were likely looking to attract all MCU and superhero fans, regardless of gender.
The dominance of spots airing on Teletoon and YTV suggests that reaching kids was also an integral component of their TV ad strategy.
Another major component of Captain Marvel was 90s nostalgia, which children are less likely to relate to but perhaps helped encouraged families to come to the theatre together.
We predict similar strategies to emerge closer to the release of Avengers: Endgame. Stay tuned to find out
*PPM markets include: Vancouver, Calgary, Edmonton, Toronto, Montreal Franco, Montreal Anglo
Source: CMR data Feb 8 - Mar 8, 2019
Other posts you may enjoy:
Gaining insights with NLogic's ad tracking tools
Aquaman's TV Advertising in Canada
Posted by Anja Bundze