The report you've been waiting for!
Our fall TV tuning Hot Topic report, built with ConexAPI, is now available. ConexAPI helps you unlock audience data to save you time from pulling multiple reports and allows you to quickly and easily create visually engaging dashboards in less than half the time.
Below are some key highlights from the report. For clients, you can access the full report either through the InfoSys+TV homepage link or in Lens (TV PPM subscription is required).
Total viewing among individuals 2+ across total Canada went up 2.2 hours per week versus summer 2018
Hours viewed by adults 25-54 across the country were level year on year but went up by 13% in Vancouver
Total Canada viewing for teens went up 7% year over year
Quebec Franco continues to watch almost 6 hours more TV per week compared to Anglo Canada
US Specialty share is up to 8% compared to 6% year prior for total Canada 2+
4 new programs made top 10 this fall for Total Canada 2+: New Amsterdam, FBI, The Connors and The Rookie
Top 3 specialty stations for adults 25-54 remain the same year over year (if the order has changed slightly) but comedy moves up to number 4 for adults 25-54 compared to number 8 last year
The Good Doctor still top rated show across Canada against all individuals 2+ as it was last fall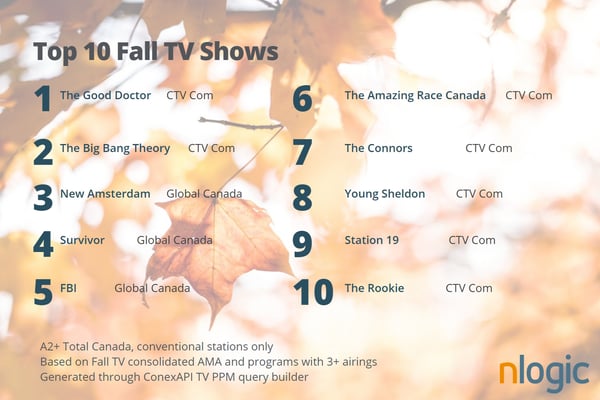 Other posts you may be interested in