On a sunny Vancouver morning, Radio Connects hosted an energizing industry presentation at Robson Square to hear the highlights from a recent radio study. This was followed by a programming panel where representatives shared their approaches to showcasing radio's power
in today's competitive audio landscape.
Radio Connect's Lisa Dillon introduced Jeff Vidler, a radio industry research veteran, who walked everyone through Audience Insights' most recent version of Radio on the Move.
Before I share what I heard at the conference, I just wanted to note, that within my role at NLogic, I read endless research studies that quantify how healthy radio tuning remains and that it continues to deliver great results for advertisers. These findings are consistently corroborated through our own internal analyses while supported by both our buyer and seller clients.
However, I often come across the narrative that describes how tuning patterns, especially by the younger age demos, have switched over exclusively to emerging digital audio offerings. As a result, marketers using audio must fully embrace these new digital technologies or be left behind. My belief is that these assumptions are not based on solid research but simply anecdotal.
The one consistent message I come across is that advertisers from multinational conglomerates to local corner shops, do not achieve meaningful results from digital only campaigns. As a passionate radio fan, I was very excited to hear Jeff reinforce that radio remains the most widely used audio platform across all demos.
Now, with that said, I could elaborate on Jeff's findings which touched on how:
radio forges a relationship between listeners and on-air personalities which does not happen with audio streams;
radio out reaches Spotify by four times in the younger 18-34 demo and even higher in other demos;
marketers cannot reach the majority of pure-play music listeners as they subscribe to the ad-free service; or
radio tuning through smart speakers is on the rise.
I could also elaborate on Lisa's conclusions that
as millennials age, their time spent with radio increases; or
how agency personnel way over estimate Spotify's reach while under estimating time spent with radio.
But I won't.
I will however encourage you to reach out directly to Lisa at Radio Connects to review all the compelling findings that debunk the myth that radio is no longer a relevant medium and marketing objectives can be achieved using digital audio platforms exclusively.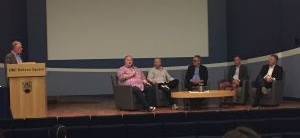 That's not to say radio does not have its challenges. Following the research presentation, Jeff moderated the PD panel that led to some insightful discussion. On the panel were Dustin Collins from Corus; Crosby McWilliam from Newcap; Ross Winters from JPBG; Al Ford from Rogers and James Stuart fromBell, and this is what they had to say about….
Opportunities
With the smart speaker's emergence across the country, radio has a place back in the home. It's now up to the industry to encourage people to 'make the radio choice' while reminding them that listening to their favourite station is a simple voice command away. For early adopters, the smart speaker is just the latest way to tune into your favourite stations. And it already includes Radioplayer Canada, iHeartRadio, 3rd party & station branded apps and websites.
Communities
Radio remains the number #1 medium when it comes to breaking news. A story may break through social media but radio is the medium of choice to keep on top of how the developing story impacts individuals, families and the community at large. Local stations throughout the province proved this last summer during BC's worst forest fire season ever. It was also the public's medium of choice the day Gord Downie passed away. Both announcers and listeners united through the medium to not only grieve together but also share their stories on how the Tragically Hip touched their lives.
Programming
People love to be entertained. People will tune in and radio will continue to deliver audiences to advertisers as long as radio continues to build great personalities. One of the keys to keeping radio competitive and relevant is the development of emerging talent. Strong and engaging personalities will differentiate radio from all the other offerings competing for one's ear. As long as radio focusses on the complete package (brand, imaging, production values, personalities etc.), it will win the battle against music pure plays. Done creatively, integrated ad content can be engaging, relatable and trusted. The key is ensuring the delivery is presented in a genuine and authentic way.
Social
A mantra of radio is 'being where your listeners are' however when it comes to social media, a delicate balance must be achieved. The challenge is to 'champion the positive benefits' of social media that promotes 'positive discourse and spirited debate'. Opposed to the sea of negativity it can often be. Social media is a natural extension of radio that allows station personalities to reach out and continue to engage with listeners. If a station's SM strategy is not executed in a tactical manner, all its activity may just become noise or clutter.
In conclusion, not only was it proven that radio's imminent demise is a myth, but there are also many things to be excited about. If there was one disappointment to the event, Crosby never did beatbox as promised.
Other posts you may enjoy:
David Phillips on the SoundOff Podcast