An interview with Joan D'Souza, Research Director at GroupM
The challenge.
The media industry is only getting more competitive. Providing better insights to our clients and creating successful plans is always a goal. When it comes to radio, we know it plays an important role in the Canadian landscape. Listenership and advertising spends are relatively stable over the years. It is still the #1 source for Canadians to access audio content. Moreover, music streaming is proving to supplement, not replace listening habits.
Given the strength of the medium, it is extremely important for us to invest in tools to monitor how radio is being planned and utilized for our clients and their competition.
The outcome
Traditional media is constantly facing challenges from the digital world. This has placed great importance on metrics and the ability to validate the effectiveness and efficiencies of each media.
Having accurate, timely data from RADTracker helps shape our media plans and buying strategies and provides impeccable proof of our capabilities.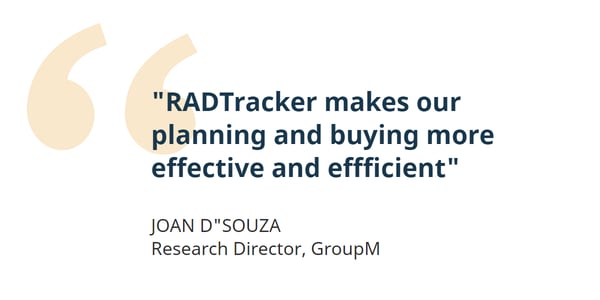 Posted by Anja Bundze