Warner Bros. has hit some roadblocks when it comes to adapting DC comic stories for the big screen. While Marvel spent the better part of decade carving out a lucrative family-friendly cinematic universe, comic book fans have criticized DC movies for having inconsistent tones. Even 2018's Aquaman was originally intended to be a much darker movie before the theatrical version was released.
Of all the DC extended universe feature films from the last decade, the latest movie Shazam! has been the most family-friendly entry by far. In the movie, a wizard grants 14-year-old foster child, Billy Batson, the ability to transform into an adult superhero in order to save the world. Disney Channel stars Asher Angel and Zachary Levi play Billy and his super alter-ego respectively, in a story that focuses on the challenges of growing up and finding a family.
While the character may not be as famous as Batman and Superman, Shazam! has been successful overall, and currently ranks as 2019's fifth highest grossing movie domestically. The film has been widely acclaimed by critics for its sense of fun, heartfelt characters, and well-developed script. Its uncertain if Shazam! will end up out-grossing its DC predecessor Aquaman, since it's currently competing with both Captain Marvel and Avengers: Endgame in the box office. However, it appears that over the month prior to its theatrical release, TV advertising for Shazam! made a bigger impact on Canadian audiences compared to Aquaman's pre-release TV adverting.
Campaign Insights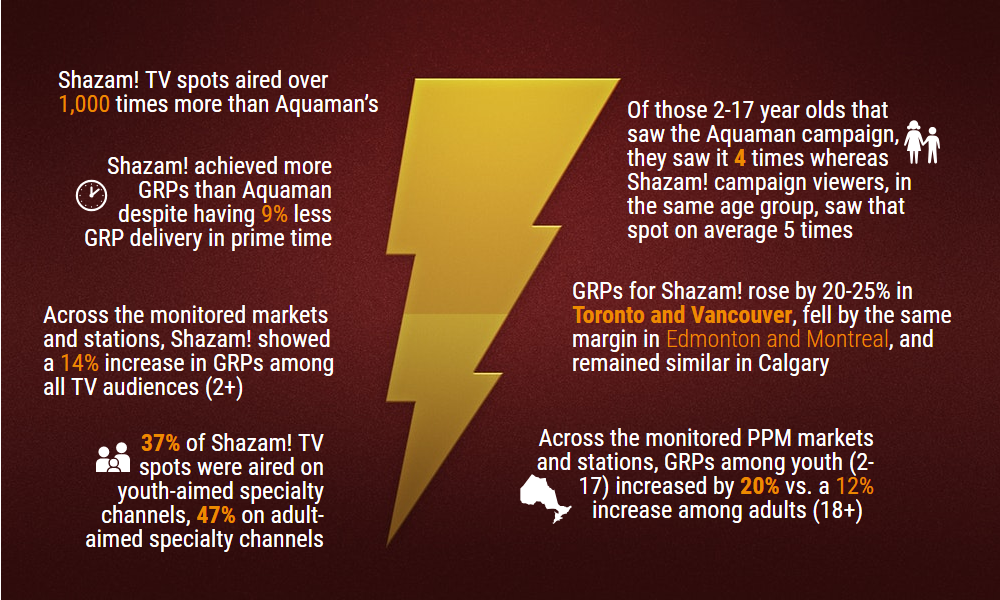 *data based on 1-month prior to it's theatrical debut
Our thoughts
The increase in the number of spots that aired for Shazam!, compared to other DC movies, may have been related to competition from Captain Marvel, Avengers: Endgame, and Hellboy
Toronto was the primary shooting location for Shazam!, which may have contributed to the region earning the biggest GRP increase of all the monitored PPM markets and stations
Promoted as a family-friendly movie, it's no surprise that the Shazam! TV ad campaign focused on youth and adult specialty channels; a third of all viewers who saw a Shazam! TV spot, were reported to be living in a house with at least one youth (2-17).
Stay tuned for our next round of coverage on the release of Avengers: Endgame.
*PPM markets include: Vancouver, Calgary, Edmonton, Toronto, Montreal Franco, Montreal Anglo
Source: CMR data Mar 5 – April 5, 2019
Other posts you may be interested in:
Aquaman TV advertising in Canada
An introduction to ad tracking
Posted by Anja Bundze