Our Spring 2019 TV tuning Hot Topic report, built with ConexAPI, is now available. ConexAPI helps you unlock audience data to save you time from pulling multiple reports and allows you to quickly and easily create visually engaging dashboards in less than half the time. See where market viewing has grown, which are the top stations and programs by demo, percentage of live program viewing and more.
Check out our highlights below. Clients can access the full report either through the InfoSys+TV homepage or in Lens.(TV PPM subscription is required).
Here are some highlights:
Just over 23 hours per week were spent watching TV this Spring for Total Canada 2+, consistent with last Spring's tuning
Vancouverites 25-54 watched almost 2 hours more TV per week this Spring compared to last, with F18-34s in the same region watching almost 3 hours more
Total Canada 2+ saw a shift of almost 2 hours more toward Specialty stations this Spring compared to last with F18-34s from Edmonton watching the most Specialty, almost 6 share points more than last Spring.
Quebec Franco continues to watch the most TV per week, reaching 28.4 hours this past season for A2+
Big Bang Theory maintained top spot for conventional programs this past Spring for Total Canada 2+. Looking at the individual markets, it's no surprise that the NBA playoffs with the Raptors came out on top in Toronto/Hamilton for the same demo.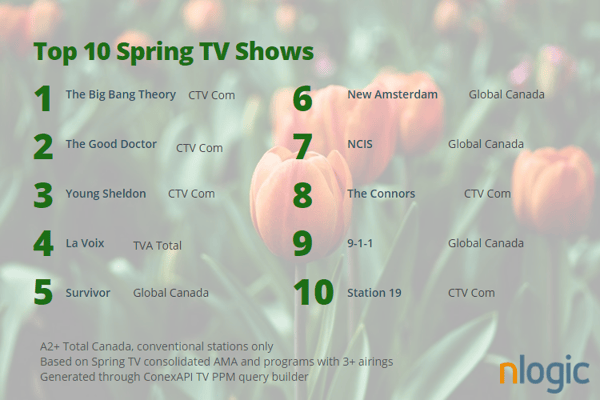 Other posts you may be interested in:
Posted by Anja Bundze