Our Summer 2019 TV tuning Hot Topic report, built with ConexAPI, is now available. ConexAPI helps you unlock audience data to save you time from pulling multiple reports and allows you to quickly and easily create visually engaging dashboards in less than half the time. See where market viewing has grown, which are the top stations and programs by demo, percentage of live program viewing and more.
Check out our highlights below. Clients can access the full report either through the InfoSys+TV homepage or in Lens.(TV PPM subscription is required).
Here are some highlights:
Ind2+ in Quebec Franco watched over 4 hours more TV a week compared to English Canada.
In Ontario, Women 18-34 watched almost 2 hours more TV a week compared to last summer. Shows that caught their attention included the NBA finals, 90210 and Big Brother.
Men 18-34 in Calgary watched the least amount of TV at only 5.4 hours per week this summer, 2 hours less than last summer.
The Good Doctor took top spot for Ind2+ across Total Canada with New Amsterdam, which premiered in September 2018, taking 2nd spot.
TVA jumps to the 2nd spot for top national conventional station (Mo-Su 2a-2a) this summer, just behind CTV Com.
Comedy jumps to 3rd spot in Specialty station rankings for A2+ in Total Canada, up from 6th place in Spring 2019.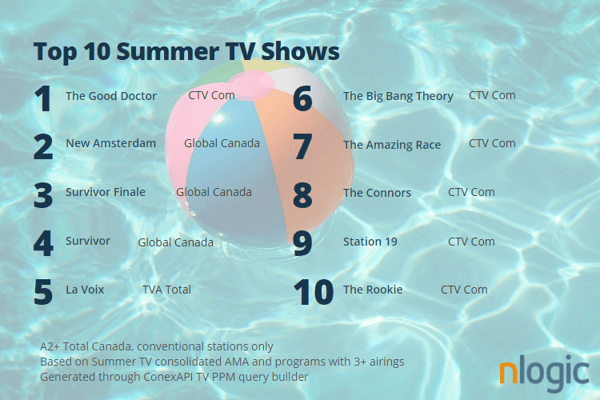 Other blog posts you may enjoy:
ConexAPI's automation and visualization wins over CFL
New technology insights from the MTM Spring 2019 survey
Posted by Jo Loup