An interview with David Goodfellow, Radio Trading Manager at Wavemaker (formerly MEC)
WHAT INSPIRED YOU TO CHOSE LENS?
Well, the system we'd used for years, not without issues, was finally being retired. Frankly, it was long overdue. So it was an opportunity to look at our current and future needs and determine which system would get us ahead in the game.
WHAT ARE THE ADVANTAGES?
The big one right off the bat is that Lens is a web-based platform. That allows it to be used anywhere on any device with access to the Internet. We get easy, instant access and don't have to worry about installing programs on local computers. And the Lens buying platform is integrated into the core product. So all our proposals and schedules are in the same place as our analysis. It doesn't get much easier or more efficient than that.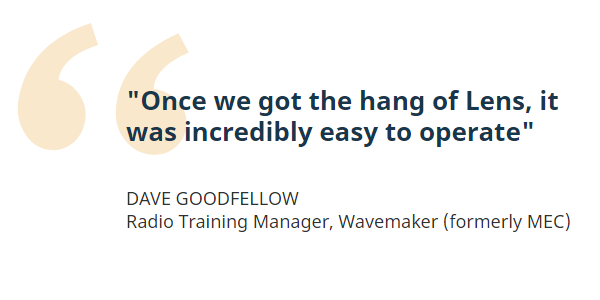 Posted by Anja Bundze