We create our hot topic audience report at the end of every TV season so that our clients have quick and easy access to the TV viewing trends in Canada.
The seasonality of TV viewing plays a critical role in programming and media planning and buying. In particular, fall remains a key period for the TV industry, as this is when many new and returning shows start. How well the shows perform during this time period determines whether they'll return in the spring.
Viewing figures for 2021 continue to be impacted by the COVID-19 pandemic. At the beginning of the initial lockdown period (Spring 2020) viewing to news stations grew significantly and by contrast viewing to sports stations fell with the lack of live content. Since that time, viewing patterns have somewhat followed previous years with a dip in the summer, and increases again between Fall and Spring.
Thanks to the Olympics, total share of viewing for Ind2+ to Canadian conventional stations was 36% during summer 2021 compared to 32% last summer. Viewing to CBC was 2.5 times higher than last summer in English Canada in terms of Ind2+ AMA. Other highlights are:
Our report covers:
Average time spent watching TV by season.
Share of viewing trends by station groups (ie conventional vs specialty TV).
Top performing TV stations including AMA (000s) and share of viewing.
Top performing TV programs including ratings and percentage of live viewing.
Clients with a TV PPM subscription can access this report either through the Lens platform or from the homepage of InfoSys+TV PPM.
Highlights for the Summer 2021 TV season include:
TV viewing in Quebec Franco is still heavier than English Canada with A25-54 watching 15 hours per week on average (3 hours more than English Canada).
Share of viewing to US specialty stations continues to fall. Total Canada Ind 2+ share of viewing is now at 8.5% compared to 11.5% last summer.
TSN retains the top spot for Canadian specialty stations for A25-54 AMA in Total Canada however it is beaten by Sportsnet in the Calgary market.
Top shows vary by market. Stanley Cup finals comes out top across Total Canada, Tokyo Olympics Prime Time in Toronto & Calgary, Global News Hour in Vancouver, Big Brother in Edmonton and Si on s'aimait in Montreal.
This report is created using ConexAPI. This tool accesses Numeris TV PPM data directly and feeds it seamlessly into data visualization tools, such as Excel or Microsoft PowerBI. This allows you to spend far less time creating reports and more time finding the insights you need and acting on them.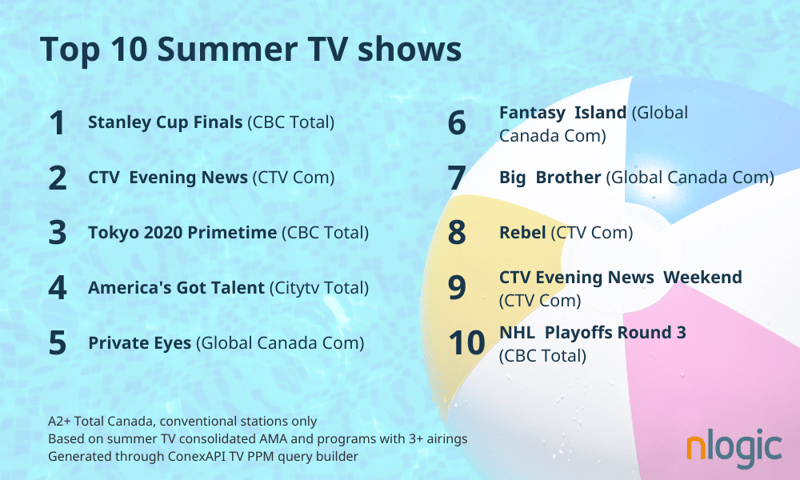 Other blog posts that may be of interest:
TV advertising during COVID-19
Impact of COVID-19 on TV tuning
A new partnership bringing real-time TV advertising performance management to Canada
Posted by Jo Loup