We create our hot topic audience report at the end of every TV season so that our clients have quick and easy access to the TV viewing trends in Canada.
The seasonality of TV viewing plays a critical role in programming and media planning and buying. In particular, fall remains a key period for the TV industry, as this is when many new and returning shows start. How well the shows perform during this time period determines whether they'll return in the spring. Viewing figures for this spring have obviously been impacted extensively by the COVID-19 pandemic. At the beginning of the lockdown period we saw viewing increase, viewing to news stations grew significantly and by contrast viewing to sports stations fell with the lack of live content.
Our report covers:
Average time spent watching TV by season.
Share of viewing trends by station groups (ie conventional vs specialty TV).
Top performing TV stations including AMA (000s) and share of viewing.
Top performing TV programs including ratings and percentage of live viewing.
Clients with a TV PPM subscription can access this report either through the Lens platform or from the homepage of InfoSys+TV PPM.
Highlights for the spring 2020 TV season include:
Total hours viewed for all Ind2+ in Canada was the same as last Spring and slightly higher than Fall 2019
Conventional stations performed well with the highest share of viewing for A25-54 in total Canada since Spring 2018
Quebec Franco continues to have the strongest viewing levels with individuals watching 30.2 hours per week on average compared to 21.5 hours per week in Anglo Canada.
The covid-19 crisis has caused a big shift in the rankings of specialty stations with LCN coming out top against all individuals across total Canada. CBC News and CP24 both feature in the top 10 whereas none of these news stations appeared in the top 10 last year.
Despite being affected by a lack of live content TSN+ holds 2nd place for specialty stations against A25-54 during this period compared to 1st place last year, with CTV Comedy coming out top.
The Good Doctor still holds the top spot for Ind2+ in total Canada even increasing its average viewing audience by 13% in comparison to our Fall analysis.
La Voix continues to deliver an impressive audience in Quebec Franco and indeed across Total Canada where it is the 3rd most watched show for Ind2+. With average viewing figures of over 2m in Quebec franco the show was performing 6% better than last Spring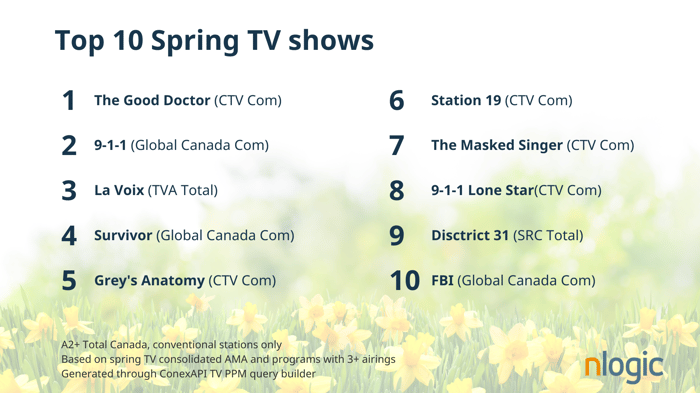 This report is created using ConexAPI. This tool accesses Numeris TV PPM data directly and feeds it seamlessly into data visualization tools, such as Excel or Microsoft PowerBI. This allows you to spend far less time creating reports and more time finding the insights you need and acting on them.
Other blog posts that may be of interest:
TV advertising during COVID-19
Impact of COVID-19 on TV tuning