Podcast listening shows a decline during COVID-19 but remains strong in Canada. At the time of writing, in the lead up to the US election, the podcast chart in Canada is dominated by The Daily from the New York Times. The Joe Rogan Experience, whose lucrative exclusive Spotify deal began on September 1st, is at number 2, and at number 3 sits the CBC's Brainwashed podcast proving that the True Crime genre is still extremely popular.
Monetization of this niche growing media has historically been challenging. However, this may be set to change with the recent launch of Acast into the Canadian market. It will bring its hosting, distribution and advertising services to creators, publishers, agencies, and brands across the country.
So how much has podcast listening changed over the past few years and what are the most listened to platforms and genres in Canada? Media Technology Monitor (MTM), the leading study in technology ownership and use in Canada, has answers to these questions and more. . (Data reported from the Spring 2020 survey unless otherwise stated. Please note that due to COVID-19 the methodology changed for this survey to online Canadians only).
Trends in podcast listening levels in Canada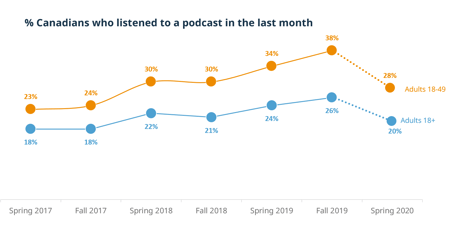 According to MTM's Spring 2020 survey there has been a dip in the percentage of the population who listen to podcasts during the COVID-19 pandemic. This is understandable given that nearly half of those that commute by public transport or by foot listen to podcasts. However when podcast listeners were asked how the pandemic had affected their listening habits, a third said they were now listening to more podcasts. We should also note that the percentage of adults aged 18-49 who have listened to a podcast in the last month is still 22% higher than it was 3 years ago.
Who is listening to podcasts?
The gender split of podcast listeners in Spring 2020 is now skewing slightly more male; 57% male and 43% female. However, the Fall 2019 survey shows distinct skews if we look at listeners' favourite genres; 2/3 of listeners who say True Crime is their favourite genre are female, whereas politics definitely skews male.

The age split of these genres follows a similar pattern with most of them skewing younger. Politics skews the oldest with almost ¼ of those that say it's their favourite being aged 50+. Comedy and History skew the youngest with 55% and 53%, respectively, of their fans being aged 18 to 34.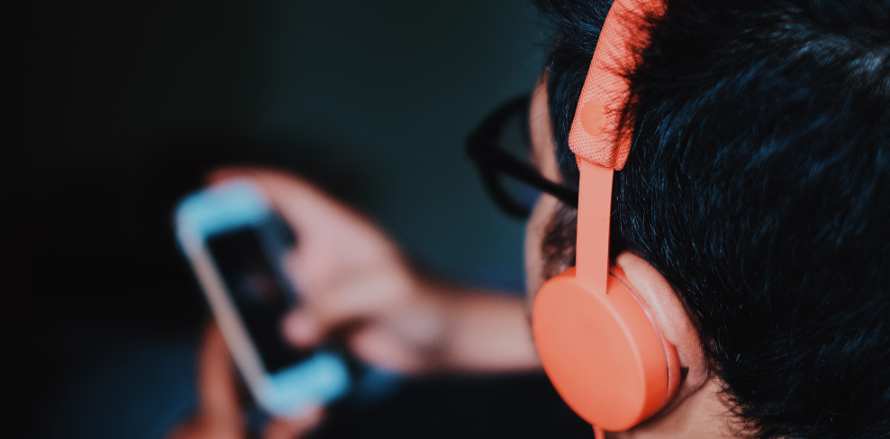 Where and how are Canadians listening to podcasts?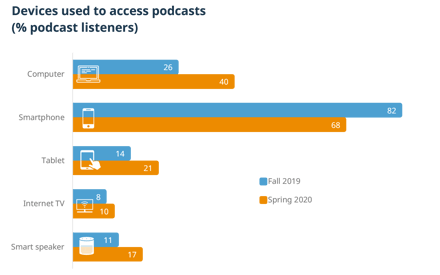 The majority of podcast listening is still done through a smartphone. However, MTM's Spring 2020 data, covering the beginning of the COVID-19 lockdown, shows that listening through home based devices such as computers and smart speakers have both increased by 54%.
Fall 2019 data shows that the majority of podcast listeners (43%) access them through their podcast app, with 25% using YouTube (down from 28% in Fall 2018) and 23% using Spotify (up from 13% in Fall 2018).
When it comes to finding new podcasts, 39% of podcast listeners rely on recommendations from friends and family. The next most popular source of information is social media at 32% followed by recommendations within the podcast app itself at 13%.
Does podcast listening impact radio listening?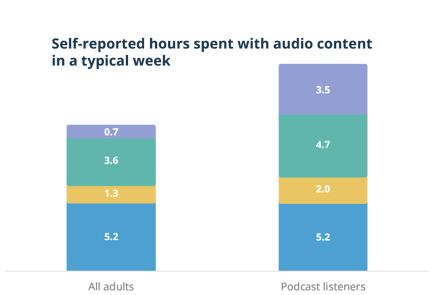 Podcast listeners consume 3½ hours of podcasts per week and 42% more total audio content than Canadian adults in general. The Spring 2020 survey shows that they consume the same amount of traditional radio as the adult population yet, on average, listen to an extra 40 minutes of streamed radio per week.
Other blog posts you may enjoy:
Canada's media technology survey
David Phillips on the SoundOff podcast
Posted by Jo Loup